The First Electric Spin Mop!
Cordless - 2 Speeds- LED light - Wet/Dry/Polish mode
ALL IN ONE DESIGN
The Electric CycloMop has the ability to clean many types of floors.  This all in one electric mop can be used for Wet and Dry Mopping and as a Floor Polisher for waxing and buffing. Easy and safe for use on Laminate, Tile, Marble, Hardwood, Bamboo and Engineered floors. With an almost 15 Oz (440ml) water tank you can add your favorite cleaner or floor polishing solution to clean all your spaces with a push of a button.
MULTIPLE SPEED ROTATION
2 different speeds for the rotating mop pads.  You chose what speed is best for you. Lower speed for wet or dry mopping and higher speed for polishing.
EASY TO OPERATE
Completely adjustable handle to help adjust so you are not bending over and light-weight enough at 7 lbs to be used with one hand operation.  

Cordless and light-weight allows it to run for continuously for 30 mins or more on a single charge.  

Quite operation – low noise.
GREEN – ENVIRONMENTALLY FRIENDLY
All mop pads are microfiber and machine washable for many uses.

2 Sets of Mopping Pads and 1 Set of Polishing Pads 
LED LIGHT
Illuminate under objects or in dark spaces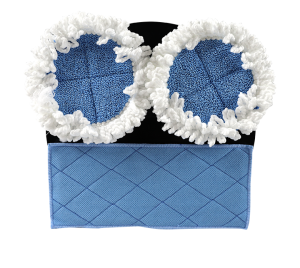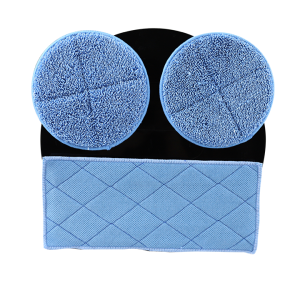 For more about the Electric Cyclomop, click the each image.